Being custom fit for golf equipment is now an industry standard and best practice, however, custom fit putters still lag behind the rest of the bag. We take a deep dive into what you should look for in a fitting experience and which one ticks all the boxes.
THE EVOLUTION OF CUSTOM FIT GOLF CLUBS
Getting custom fit used to mean taping up the head and hitting some balls on the range. Regular or Stiff shaft options was about as good as it got. If it felt good and you liked the look of it, you bought it.
How things have changed! Nowadays, there are simulators and analyzers with every conceivable metric measured and analysis made to get you optimised. Drivers, fairway woods, hybrids, irons and wedges are standard fare. The combination of the head, shaft and grip are all tweaked and fit dynamically to get the most out of what you have at your disposal.
THE CURIOUS CASE OF CUSTOM FIT PUTTERS
However, the one club in the bag which escapes notice is the one club responsible for more shots than any other… the putter. Custom putter fitting should be a priority for every golfer. The fastest way to reduce your score and handicap is through developing a solid short game of which putting is the primary contributor. Custom fit putters are still a rarity even amongst the most fastidious golfers and club hoes. Often chosen simply on 'wokeness', looks, stamps or whether they are Tour Issue or not… there must be a better way.
CUSTOM FIT PUTTERS & SUIT BUYING
Most people will equate putting a few balls alongside sophisticated tech as being custom fit. (More on these options later…) Having all the tech makes no difference if you cannot interpret the data and apply it dynamically to the golfer in front of you. Additionally, data is worth nothing if the equipment and components you have at your disposal cannot meet the needs identified. So what are the primary considerations when deciding on a putter fitting?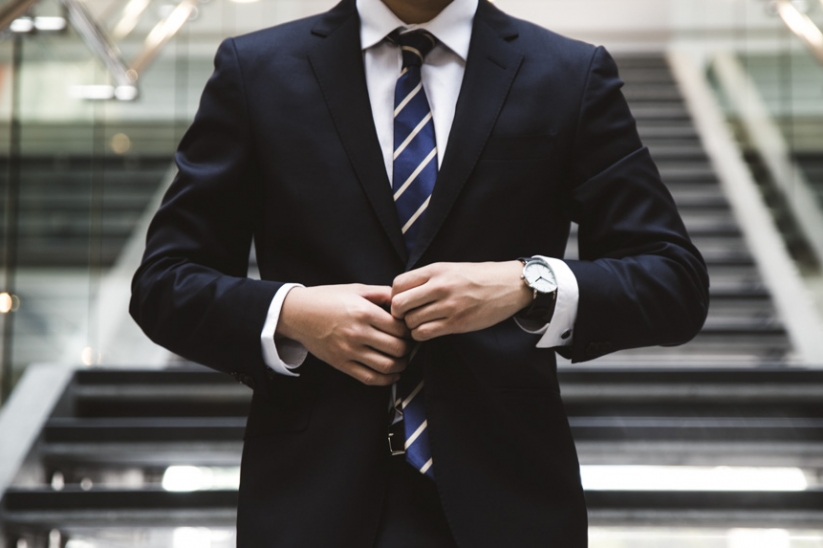 BUY AN ARTISAN PUTTER ONLINE
The starting point must be buying a putter online because of the woke social media crowd. At least with this option, you will look cool and be flexing on the putting green. There are some providers out there that do provide a virtual design and fitting service which will go some way to helping you get where you need to be.
Purchasing this way is tantamount to buying a very expensive designer suit online because it looks good on an influencer… without the option of return or refund.
BUY FROM A LOCAL BIG BOX OR PGA PROFESSIONAL
The next step is to head to your local pro or big box store and putt a few balls on the indoor putting green. You pick what feels right or simply because a PGA Tour Pro won with it last week. If it works for him it'll definitely work for you…
This purchase is similar to buying a suit from M&S. You can try it on and you decide if you want to buy by looking in the mirror.
PUTTER FITTING
There are a handful of putter fitters out there. Most will have a putting studio with a load of putters on racks ready for you to try and buy. They will probably have one or more of the technologies mentioned below that will help you get some feedback on the putter you decide upon. I often find it curious that the putter you came to be custom fit for is already on the rack in the studio before you arrived.
This purchase is similar to buying a suit off the rack from a reputable high street retailer like Moss Bros. You can try a lot of options and in the end, you can pretty much get what you want by mixing and matching from what's in-store. They may even adjust the hems (change the grip)… if you're lucky.
CUSTOM FIT PUTTER
The ultimate custom fit putter experience is akin to being fit for a Saville Row suit. If you've ever had the experience of a bespoke fitting where no detail is too small, you'll find it hard to ever wear anything else. This is also where the skill of the fitter or tailor comes into its own…
You may like the look of a certain suit, but it may not be the best fit for you. A skilled tailor will make small adjustments to every conceivable aspect to make sure you look and feel your best. A tailored suit accentuates all your assets and compensates you for all your flaws. In essence, this is the same as with a skilled fitter.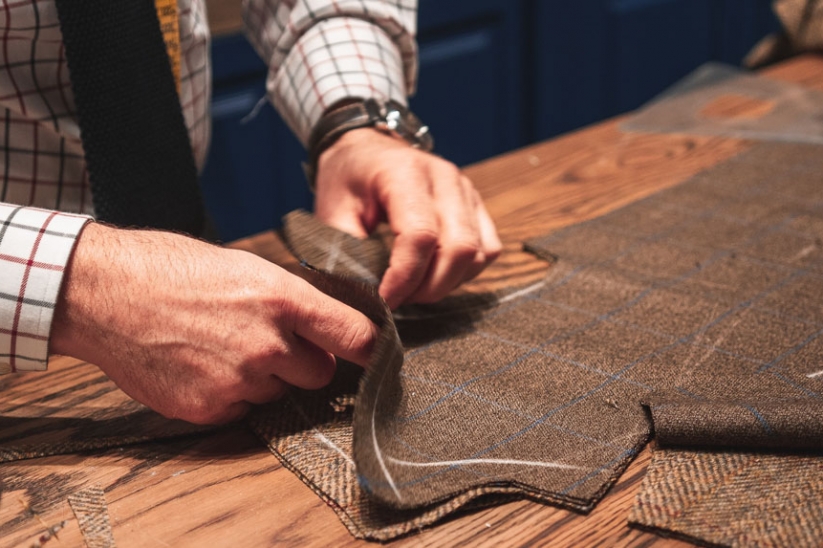 CUSTOM FIT PUTTERS & SUIT BUYING SUMMARY
Use of the latest technology is great as tech provides data. Data needs to be interpreted then applied and it is only worth something if the corresponding equipment element can be adjusted or manipulated.
There are a few solutions. Firstly, have an inventory of all the putters and all the aftermarket accessories and systematically work through them until you find the right combination that works for you. This may be likened to trying on every suit off the peg until you get one that is just right.
The second alternative is to find a putter which can be built and customised dynamically for you. Head shape, weight, counterweight, alignment aids, offset, length, grip size, shape and a plethora of other variables play a part.
KEY ELEMENTS OF A PUTTER FITTING
There are a few factors to consider when having a putter fitting beyond the offerings of the big brands. Here are some essentially hallmarks to look for to ensure you come away with what's right for you.
DYNAMIC VS STATIC FITTING
Both are important when being fit. However, make sure that you are being fit dynamically, meaning you are measured and adjustments are made while you're actually putting.
PUTTER FITTING: ON MATS OR GREENS?
Putting happens on the course on putting greens. However, mats have an advantage. Variables can be minimised and they are extremely consistent. If you are fit inside on a mat, remember that every putt is a straight putt. If you can putt it consistently on a mat, it should translate to the course.
PUTTER FITTING SCENARIOS
For the most part, you'll have to go to a 'Putting Studio' to be fit. The sceptic in me questions this as it would seem to indicate they are fitting you into a putter that is already on the shelf as opposed to one that needs to be built to your specifications.
The other question raised in my mind is that if they need a full club smith workshop to alter clubs dynamically, the fitting will take days and either they or I will lose momentum before we get where we need to be.
If I walk away with a putter after a fitting, I must be very lucky as they had exactly what I needed on the shelf or I may just have helped them clear out some old stock from inventory.
If I can be fit on location and the putter can be built piecemeal in front of me, I am confident I am not being fit for what needs to be shifted from inventory. I may need to wait for my putter to be built but when it arrives it will be exactly what I wanted.
COST & VALUE
Don't confuse cost with value. Cost is what you pay and value is what you get. With overheads come expenses and they need to be covered somehow. I've paid top whack for fittings and felt taking advantage of and conversely paid nothing and tipped because the experience justified the gesture.
LITTLE THINGS THAT COUNT
I look for the little details. I figure if the fitter is precious about details it will translate to the fitting process and ultimately I'll get a better fit and in the end, lower scores.
YOUR PREFERRED GOLF BALL
Putting is much about perception. Interestingly, sound plays a vital role in what you perceive as feel. Whether it makes a massive difference or not may be difficult to quantify, but I would like to be fit using the ball I game. A reputable putter fitter would no doubt have a consistent set of Titleist Pro V1's, Srixon Z Star's, Bridgestone Tour B's, TaylorMade TP5's or Callaway Chrome Soft's on hand. If you don't play what the fitter is using, see if the fitter will allow you to bring your own brand so you can compare apples with apples.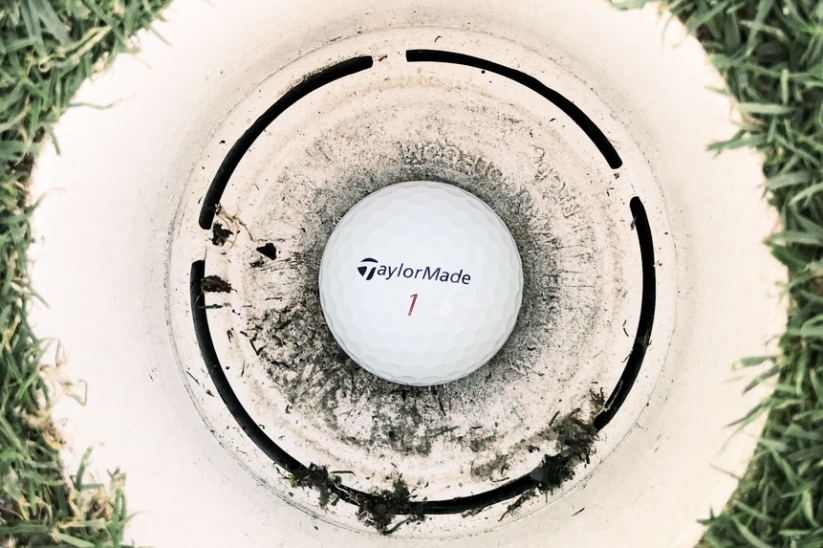 YOUR NEW VS OLD PUTTER
I also like the ability to see proof the new putter I am about to drop hundreds of pounds on is demonstrably better than my current wand. It would seem logical that a reputable fitter would also want you to be sure you weren't throwing away good money just to make a sale. The best fitter I ever worked with talked me out of product when he knew it wouldn't help. He may not have made anything on me but I have sent him a lot of business which he has done well on afterwards.
KEY ELEMENTS OF A PUTTER FITTING SUMMARY
The best fittings minimise variables and provide confidence. Dynamic fittings with tangible evidence of a better fit and results based on performance is a sure way to have me part with my money. I expect not to be rushed nor pressured and have the ability to compare new and old.
CUSTOM FIT PUTTERS & TECHNOLOGY
The role of technology is vital in achieving a proper fitting. There are quite a few different solutions used by those that offer putter fittings. Here is a brief summary of what each option provides.
TRACKMAN
The most well-known is probably Trackman. Relatively new, the Performance Putting application is only available on Trackman 4. It would seem the primary application for the technology is practice as opposed to fitting. It merges video with data such as club delivery, ball launch and speed control and includes information on slope and stimp. Trackman uses radar technology.
CAPTO
CAPTO is an Italian product that uses a high accuracy sensor and software which can be used indoors or outdoors. The sensor measures more than 40 parameters and weighs just 62 grams. It is attached to the shaft of the putter and software is used to make sense of the data. It's an impressive bit of kit which includes magnetometers, gyroscopes, accelerometers, thermometers, a barometer and hygrometer!
SAM PUTTLAB
Science&Motion has lead the field in putting data and technology. Again, the emphasis is often on coaching and training than fitting. In fact, in order to get the Putter Fitting Module, you need to advance past the Basic package to the Coaching, Coaching Plus or Studio editions. More than 50 putting parameters are measured and can be benchmarked against their database of users. Their EasyFit Protocol is based on putter length. Their Perfect Fit Protocol is based on length, head balance, loft, lie and grip. SAM PuttLab uses ultrasound technology.
QUINTIC BALL ROLL
Quintic Ball Roll uses a high-speed camera to track the putter and ball through impact with 45 different parameters measured. The basic setup includes the ability to capture impact at 360 frames per second. In order to measure the club, you need to spend a little more. The data acquired is primarily based on what happens to the ball after impact. The technology is used to optimise 5 key areas: Face Rotation, Face Angle, Impact Ball Speed, Launch Angle and Ball Skid. Up to 9 factors are considered for each area.
BIOMECH
BioMech is an interactive putting analysis and instructional platform. Similar to CAPTO, it uses a sensor attached to the putter and an app. Where the CAPTO weighs 62 grams, the BioMech Putting Sensor weighs just 18 grams! BioMech is a great solution as its focus is the club and not the ball which is great for putter fitting.
CUSTOM FIT PUTTERS & TECHNOLOGY SUMMARY
Trackman and SAM PuttLab appear to focus more on coaching, training, practice with fitting being possible. CAPTO is brilliantly simple yet adds 60 grams to your putter… not ideal when trying to make a fitting as you probably will remove it when finished. Quintic Ball Roll is comprehensive and not as elegant as the others. It has the most comprehensive fitting process but to take advantage you will need an equally adjustable putter to easily adjust for all eventualities.
Technology is great and the aforementioned products can be used to assist in fitting. The only way to make the most of the technology is to have an equally capable and elastic system that corresponds to each parameter being measured. This is where having all the latest tech falls flat if it is not combined with equipment solutions that can be easily manipulated to address what's been identified.
BEST PUTTER 2022
So the question is: What is the best putter in 2022? My Golf Spy or the Golf Digest Hot List may be used as a starting point. Keep this fact in mind: It doesn't really matter how much the putter is wanted or how many golf stars it has been awarded, it is worthless if it doesn't fit you.
ODYSSEY PUTTER
The current offerings are the Eleven, Tri-Hot White, White Hot OG, Ten Series, DFX, Eleven 2-Ball and Toulon Garage.
If you want a fitting, they use a system called Odyssey Fits. 5 putts will tell you which putter is best for you. I guess its better than nothing… but I am dropping from £200-£500 on a putter, I want more than 5 putts before pulling out my wallet.
Odyssey is the #1 Putter in Golf for good reason – because they shift product.
SCOTTY CAMERON PUTTER
The current lineup includes the Special Select and Phantom X.
You can buy a putter online after watching a few videos that explain shape, path, toe flow, length, neck, grip, loft, lie and weight. After you watch the videos and decide for yourself what you think you need from a chart.
Scotty Cameron putters have a cult-like following amongst the rank and file golfer. Many tour pro's game them as well. There is one difference… they didn't use the handy chart on the website – and neither should you if you want a proper custom fit putter.
PING PUTTER
Current offerings include PLD Milled and the 2021 range.
This is the company that first made the Anser blade, essentially the benchmark for all putters in the modern game. Ping has always offered fitting using their Color Coding System. The putter fitting system iPing 2.0 Putting App measures closing angle, impact angle, tempo, lie and shaft lean. Using these metrics, it recommends a new putter.
Even better than Odyssey, Ping only takes 3 putts before you need to take out your wallet!
TAYLORMADE PUTTERS
Current offerings include the TP Hydro Blast and Spider lines.
There is no mention of fitting on the site. The custom options download mentions specifications only and the Tuning Manual only highlights the adjustable ferrules on drivers, woods and hybrids.
Taylormade has perhaps the highest-profile stable of players on the Tour. Rory, Tiger, Johnson and Fleetwood shift putters for Taylormade – which is curious as only Rory bags a Spider.
EVNROLL PUTTERS
Guerin Rife has built and sold numerous golf equipment brands. He is an innovator and brought you the first cavity-backed mallet and groves on putters.
Evnroll offers bespoke custom fitting. Incorporating Quintic Technology the fitting process is in-depth and thorough. There are three parts to the fitting described as Putter IQ, Organic and Analytical. The only drawback? You need to get to HQ in Carlsbad, CA, USA.
CRAFT PUTTERS
It probably isn't fair to lump all of these together. I love independent companies by men and women who have honed their craft along with copious amounts of blood, sweat and tears. The common thread here is they produce putters you could hang on your wall as showpieces.
Companies include Lamb Crafted (USA), Bettinardi (USA), Low Tide (USA), Piretti (USA), Byron Putters (USA), Clay Long Design (USA), Olson (USA), Cody James (USA), National Custom Works (USA) & James Ingles (UK).
These craftsmen are artisans. Their work is impeccable, draw-droppingly gorgeous but you pay for the privilege to bag their kit. The problem is you either need to know your exact specs and they build to suit, or you game a beautiful putter which is built as eye candy. These are highly customised putters but not in most cases, not custom fit.
EDEL PUTTERS
Edel is a brand that has long fascinated me. The fitting service is world-class and you have the immediate satisfaction of knowing you've had a data-driven, dynamic fitting that produces the best fitting putter money can buy.
The putter is no more expensive than most off the peg solutions but it is custom fit in every sense of the term. It may not have the artistry of the craft manufacturers nor the tour presence of the big boys, but it is in a league of its own when it comes to quality, price and fit.
You'll essentially have your own customised putter built from a tool chest full of components. The fitting process isolates individual variables until you work your way to the final setup. You try before you buy and can compare your gamer with your potential new flat stick.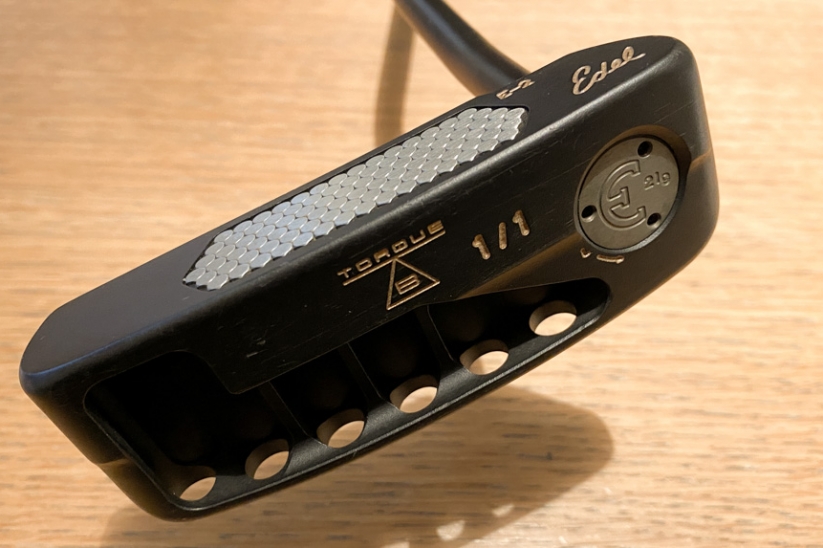 THE BEST CUSTOM FIT PUTTERS
For the most part, there are some seriously skilled fitters with all the technology in the world ready to fit you. However, if the equipment they are using cannot readily be adapted to address the issues they find – then what use is it?
If the putters are already on the shelf, what are the chances that one the those is the one for you? You can convince yourself your the lucky one or see it for what it is. You may get a decent match but if what your after is custom fit, this isn't where you begin.
Of the mainstream manufacturers, none offer a proper fitting service. It just doesn't fit with the sales tactic of shifting en mass. On the other end of the spectrum, the artisans can offer bespoke putters beyond all comprehension, the problem is most don't have a proper fitting service or ethos. So what is the solution?
The simple answer is Edel. There is nothing in the industry that comes close to the options and variables that their fitters are able to measure and adapt. It is true that they don't offer the same level of customisation as the artisans but they certainly offer a custom fit putter that is customised.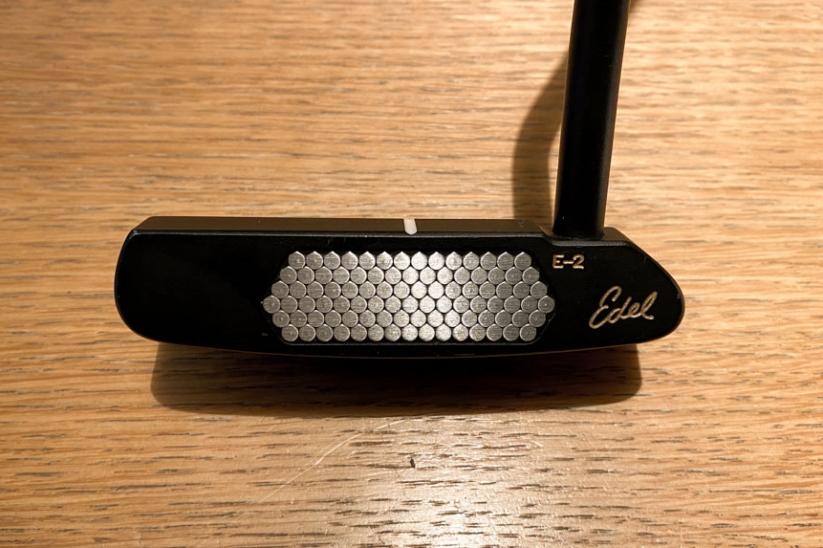 CUSTOM FIT PUTTERS UK
The Golf Tailor uses the combination of BioMech and Edel to make made to measure putters. The fitting cost ranges from £25 to £75 (location dependant) and is sometimes refundable against the cost of a putter.
The fitting, putter and complete customisation cost £495. They have a working relationship with Brocket Hall on some of the best putter fitting greens in the country.
Precision Golf is the leading UK fitting centre. Located in Surrey, England, it has all the bells and whistles and the latest tech. A putter fitting uses CAPTO and will take an hour and a half and set you back £125. The cost of the putter and modifications is in addition.
Custom Lab Golf, located in Hertfordshire, fits putters with CAPTO. The fitting costs £65 and last 90 minutes. The cost of the putter and modifications is in addition.
UK Golf Academy, located in Brentwood, Essex, just outside London. SAM PuttLab is used and the main manufactures current lines are readily in stock. The cost is £70 plus the cost of the putter.
Phil Kenyon is one of the world's leading putting coaches. His studio is in Liverpool, England where Quintic and SAM PuttLab are used to fit you into an Odessey Putter. The fitting takes an hour and a half, costs £60 and the putter cost is additional.
Putting Lab, in Machester, England, uses SAM PuttLab to fit you into a Ping, Odyssey, TaylorMade, Scotty Cameron or Bettinardi putter. An hour-long fitting will cost £49 with the cost of one of the 125 putters in store on top.